Based on TAI's interview with Eve Nagel, Senior Project Manager on Inequality, Global Issues at the Robert Bosch Foundation
Transparency and Accountability Initiative's (TAI) vision is inclusive democracies where power and resources are more equally distributed. TAI believes that transparency, accountability, and inclusive participation are core pillars of this vision, and philanthropy, as part of the ecosystem, must question and change its own forms of operation and structure.
Within this context, TAI´s Eszter Filippinyi and Eve Nagel, Senior Project Manager on Inequality, Global Issues at the Robert Bosch Stiftung discuss practical steps the Foundation has taken to change its grant-making practice.
Eve, who has been part of the Bosch Foundation's Inequality Program since it started in 2020, has been working on how to put systems change into practice. "In 2020, the Bosch Foundation made a major shift in its grantmaking, particularly in the international portfolio. Since then, the Foundation has focused its international work on six closely interconnected major global challenges: climate change, migration, peace, democracy, immigration society, and inequality. The essence of the systems change approach is to address root causes rather than symptoms. Therefore, when we talk about inequality, this means we're not looking solely at the outcomes of inequality, which may be for example, poverty in large parts of the world, but also inequalities in representation and decision-making."
"We started thinking about our own role as a private philanthropy in addressing inequalities and realized that we are part of a system, that is built on inequalities, particularly wealth inequality, and for me, that was a new way of looking at our role. It shifted my perspective on the work we were doing in philanthropy. For our team, it had a big impact on how we approached the work because we realized it was now not only thinking about what we're funding, but it was also about who we're funding and how we're doing it."
Eve adds "We knew we wanted to direct funds to groups that are historically underfunded, but we didn't know how, because we didn't know them, and they didn't know us. Then we met the Leap Collective. Leap is an initiative by people working in philanthropy as well as social entrepreneurs and activists aiming to bring a systems change approach into the European philanthropy sphere. Leap offered to support us in reaching new groups and to develop a strategic approach that would respond to our needs, but also to the needs of people in the field." This is how the Inequality team embarked on an experiment with a specific thematic focus on climate justice work in Europe.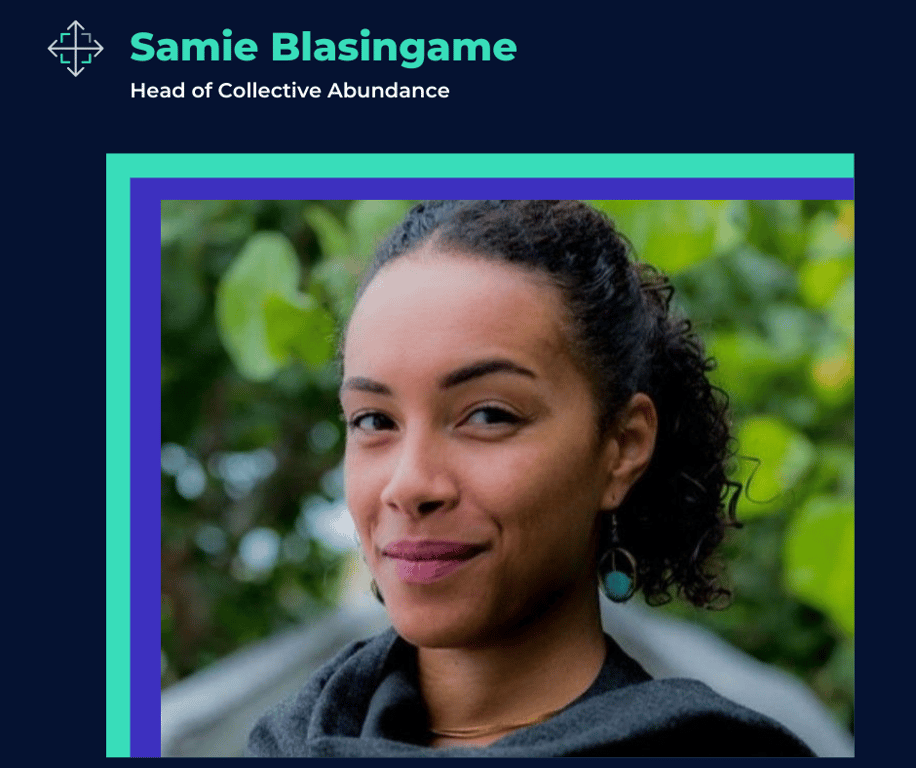 "We started this process two years ago and we are still working on it, understanding that building relationships, understanding, and trust building takes time. However, a new initiative has now emerged from this process: a participatory fund to support climate justice work in Europe, called Abundance" (to be officially launched in October).
When asked what this means regarding time investment Eve responded "With Leap, we made a significant commitment from the outset. We put our trust in this process and believed that whatever emerges would be a genuine need identified by activists and community members on the ground, making it a worthy investment. I had to take a step back from the more usual hands-on approach as a grant-maker, which was a novel experience for me, and instead, I adopted a supportive role. An expert group of activists in the field of climate justice took the lead. Surprisingly, this endeavor didn't demand much of my time."
"The challenge for me was to trust the process fully, resisting the urge to inquire about progress or updates. Instead, I tried to allow the process to evolve naturally. I had occasional calls with Leap facilitators and received updates from the activists in the climate justice group. These interactions helped me better understand the group's dynamics"
Eve wants philanthropic organizations to know that "while building relationships remains crucial and time-consuming, some aspects, such as the grant application process and reporting requirements, can be streamlined. "In our team, we have been working on identifying areas where grantees don't need to document everything and have seen that we can collaborate more with our colleagues in grants management to lighten the burden on our grantees. It's an ongoing process, but I've seen improvements over the years. Currently, we have an internal working group focused on enhancing the grant application process based on feedback from our grantees."
Recognizing that this is a journey far from being concluded, Eve shared her advice to those embarking on this adventure: "When we initially ventured into addressing inequality, it's evident that we were filled with apprehension. We grappled with a sense of inadequacy, feeling like we didn't have a clear understanding of what was needed and lacked a clear roadmap. Even now, I acknowledge that I'm still very much in a learning phase. However, what we have found extremely helpful is engaging with other funders and grantee partners on this topic. This openness has created new avenues for growth and understanding. Simply sharing where we currently stand has made us more honest and transparent in our endeavors.
"I believe that we need more of this kind of transparency and vulnerability in philanthropy. So, I encourage others to explore possibilities within their existing structures."
If you are a funder and interested to learn more about this topic, we invite you to join TAI Funder call on Thursday, 2nd of November. At the call Eve Nagel will share more insights, alongside with Samie Blasingame, head of Abundance secretariat (a new participatory fund that is being set up by the working group of climate justice activists that Bosch Foundation have funded), and Romy Krämer, the managing director of the Guerrilla Foundation (see our interview with her in May) . We will share take away after the call. Reach out to us for more details on the call!
Listen to the full conversation: