We are excited to launch a short interview series that features Transparency, Civic Participation, and Accountability (TPA) foundation directors, program and communications officers, and grantees. The "Full Disclosure" series is designed to humanize and shed more light on the collective work they help advance and celebrate individual commitments and tenacity towards building a better society.
Our first guest is Sarah Jane Staats, an independent global communications and policy strategist. Sarah Jane helps organizations build and use strategic communications and external engagement to turn their research and ideas into practical action. She has just wrapped up her time as a communications officer for the William and Flora Hewlett Foundation's global development and reproductive health grantmaking.
Great having you here Sarah Jane! What do you find most exciting about working in the TPA field?
For me, it's the promise that transparency, civic participation, and accountability can make government better for the people it serves.
When I was the communications officer for this work at the William and Flora Hewlett Foundation, I had a chance to see organizations like Afrobarometer that collect robust data about people's experiences and views on democracy, governance, and quality of life and use it to improve policies. As my former Hewlett Foundation colleague and future Afrobarometer CEO Joseph Asunka explains, Afrobarometer "makes it possible for ordinary Africans, and not just economic and political elites, to influence decisions, actions, and processes at national, regional, and global levels." Asunka calls it "revolutionary, powerful and reassuring."
I was also excited to see the huge range of organizations working towards feminist open government and stronger media to promote public access to information. Right now, many of these organizations are rapidly adapting and responding to COVID-19, including how it may alter the social contract between citizens and their governments.
When I see government officials and citizens working together to put the public back in public policy, I'm hopeful that we can make progress towards more just, fair, and equal societies.
What are the challenges of communicating TPA issues, and what have you found to be most effective?
The most visible communication efforts are often major advocacy campaigns that call out governments when things aren't working. It's much harder to see day-to-day work between government champions and external advocates, academics, and entrepreneurs. And yet, those regular, close interactions often yield enormous impact.
For this kind of work, storytelling along the way by the people doing the work can be really powerful. I hope your readers have listened to the audio stories you and Open Gov Hub recorded with StoryCorps. The International Budget Partnership has a storytelling platform, too, that shares how government budget transparency affects a mother in South Africa, a city council member in Mexico, and community mobilizer in Indonesia.
I'm also a fan of Accountability Lab which turns the tables on naming and shaming government officials with their Integrity Icon campaign which instead aims to "name and fame honest government officials."
Also, we need more pictures of the day-to-day work, please!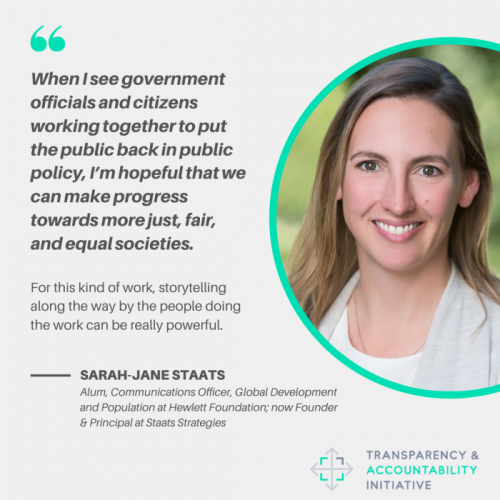 From a communications perspective, what trends in the TPA space excite you the most, and what opportunities do you see for organizations working in this field?
Right now, I am most excited about efforts to close the gaps between academic scholars, policymakers, nonprofit teams, and community members working to solve the hardest social problems, from COVID-19 responses to police-community relations and the ways race and wealth affect maternal and newborn health.
I'm currently working with Stanford Impact Labs to boost their communications and external engagement as they work to connect scholars across the university with government, business, and nonprofit leaders to tackle social problems. They have an impressive new approach to support, fund, and encourage problem-focused research and partnerships for greater public good.
I've also been following the Africa Center for Systematic Review and Knowledge Translation at Makerere University, whose team provides rapid, synthesized research to inform time-sensitive decisions in Uganda's government agencies. And organizations like IDinsight have adapted their core research capacity to provide just-in-time (and understandable!) analysis about how governments' COVID-19 responses are affecting people in Uganda, the Philippines, and beyond.
There are big opportunities for universities and those in government, business, and nonprofit settings to get outside their own organizations to inform and benefit from others' work on complex issues that no one can solve alone.
What advice will you give your younger self or anyone starting out as a communications officer in TPA space?
Say no to jargon. If it doesn't make sense to you, speak up. Ask questions to understand what someone means with the words they use. Your fresh eyes and outside perspective matter and can help translate the work for broader audiences to have more impact in the world. Also, pick up a copy of Global Press's Style Guide and use it!
What song would you pick for your personal anthem? and why?
Well, my kids have had Nyan Cat on repeat lately, but I'd have to go with Queen and David Bowie's Under Pressure. There's something about the duet—bleakness about strife and suffering around us and unyielding hope that love and empathy might save us still—that fits right now. And there's that catchy bass line, to boot.