Highlight
Nothing to hide
We start this week with all things open.
Participants at the fifth annual Global Legislative Openness Week (GLOW) recount why and how taking an open state approach is essential for strengthening the open government process and combating the three related threats of COVID-19, climate crisis, and authoritarian overreach. For their part, Open Government Partnership list 'lessons from reformers' stories, including service delivery monitoring, open data, open procurement, and strides toward meeting the EITI standard and Beneficial Ownership transparency
Colombia is considering new beneficial ownership legislation while Open Ownership gear up to support the U.K. Overseas Territories in building publicly accessible registers of beneficial owners by 2023. CoST — the infrastructure transparency initiative, Open Data Service, and the Open Contracting Partnership have been working on creating Open Contracting for Infrastructure Data Standard for publishing joined-up data about infrastructure projects and contracts. Read their first, second, and final blog, explaining lessons learned from using it and implementing it.
Calum Rutter makes a case for participatory budgets as a tool to meet local needs in marginalized communities. Plus, we are intrigued by the progress towards Open Banking. Josh D'Addario offers five takeaways from applications in the U.K. so far.
Buyers' remorse
One area where more openness would be helpful is on debt. The Center for Global Development and Aid Data review the term of China's recent debt reschedules and find the generosity of deals depends more on the PRC's exposure than the borrower's needs. Adva Saldinger examines U.S. support for G-20 efforts to formulate a new system for debt relief and strategies to shore up support for IMF funding mechanisms to provide COVID-19 relief to low-income countries.
Of course, debt is spiraling due to government spending to contain the worst effects of the pandemic. Unfortunately, not all that spending is well allocated. Jamie Love at the Financial Times notes that "once [secrecy is] peeled away, what you see is a massive privatization of billions of dollars of government funds" as NAO revelations in the U.K. also show how suppliers with political ties were given 'high-priority' status in UK PPE procurement.
For a sense of how the management of COVID funds impacts public perceptions, check out the nicely visualized survey findings from Integrity Icon Liberia. Staying with the pandemic, Nada Zohdy and Abigail Bellows examine its impact on civil society collaborations and how this crisis might catalyze collaboration among civil society organizations fighting for transparency, accountability, and open government. Similarly, Pavlina Pavlova lays down a cheat code on how civic activists can be a step ahead of pseudo-authoritarian regimes with encrypted communication platforms to aid social movements.
Last week we featured Transparency International's take on need for more transparency around COVID vaccines. So, interesting this week to see a grouping of health NGOs making similar arguments – demanding transparency to make good on Europe's vaccines investments.
Essential Visual: Which ESG Risks Are Affecting Your Portfolio?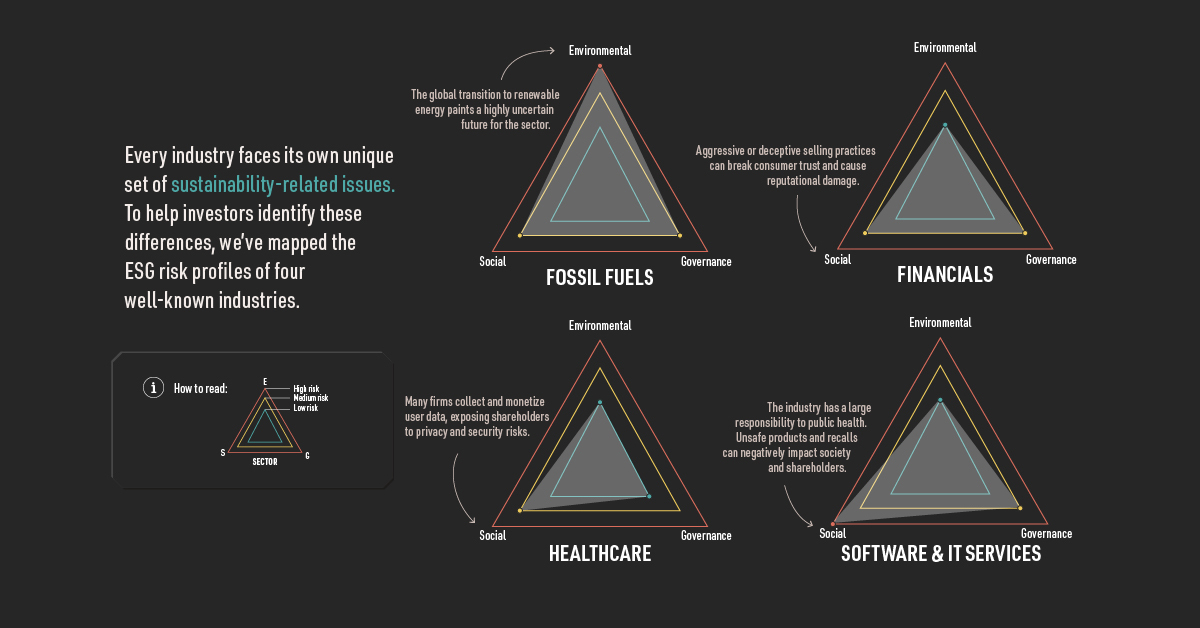 It's important for investors to identify which sustainability issues they're most exposed to. Visual Capitalist break down ESG risks in four key industries as a helpful example. Read alongside analysis to growth in ESG funds which jumped from barely $300bn in 2011 to close to $900bn last year according to BlackRock.
Corruption fest
This week sees the 19th International Anti-Corruption Conference in full swing with more sessions than your average fine for white-collar crime. You are bound to find something of interest.
No shortage of developments to give urgency to the IACC discussions. Gideon Rachman urges action on the rule of law and oversight in Europe as corruption threats looms large, while Bill Browder, champion of the Magnitsky Act, is disappointed by the Swiss authorities, threatening legal action as Swiss prosecutors seek to drop serious charges against Russian account holders in exchange for seizing a percentage of assets in accounts.
Staying with prosecutions, Christina Levelt describes barriers to bringing to book high-level corruption in Haiti. She proposes better case management and training of prosecutors, an end to prosecutors' arbitrary appointment and removal, and improved transparency combined with civil society monitoring as potential solutions.
The OCCRP once again unearth real estate money laundering activities in the U.S. This time, they reveal how Gabon's ruling Bongo family and their inner circle bought at least seven properties worth over US$4.2 million in cash near the U.S. capital without U.S. realtors batting an eyelid. Transparency International's Gary Kalman provides insight into the lack of due diligence that made them possible. How to repatriate illicit assets? The U4Anti- Corruption Resource center urges establishment of dedicated funds and a reparation mechanism for money recovered from foreign bribery and money laundry.
Much of Gabon's wealth is from natural resources, so Gabonese make have empathy with stakeholders in the Zimbabwean mining sector who have urged the government to revive its legacy efforts of formalizing artisanal mining to curb crime, black-market trading, and Illicit financial flows in the sector.
We're happy to see anti-corruption champions recognized at the West Africa Media Excellence Awards. Manasseh Azure was awarded Best in Anti-Corruption Reporting and Best Journalist for his investigation "Grounded Wheels," revealing how the Ghanaian government's procurement failings affect citizens' daily lives. Manasseh also claimed a significant scalp last month when President Nana Okufa-Addo fired Ghana's chief procurement officer over conflicts of interest exposed by Manasseh's 2019 documentary, "Contracts for Sale."
Finally, check out the new Ibrahim Index of African Governance with an updated framework and strengthened indicators. It shows that although African governance has improved since 2010, progress has slowed in the last five years. That trend may accelerate further given the current economic and social stresses and not limited to Africa.
Staying with the measurement theme, discover why and how to measure Most Significant Change (MSC) as a monitoring anti-corruption programming tactic. Also, follow @Integrity_2020, an initiative between anti-corruption authorities and academia to share information on best practices to combat corruption.
Essential Listening: Integrating Social Norms into Anti-Corruption Strategy
Co-directors of Corruption Justice and Legitimacy Program (CJL), Cheyanne Scharbatke-Church and Diana Chigas discuss why anti-corruption programming needs to engage with social norms and what CJL is currently doing to shift social norms from the periphery to a central component of corruption analysis and anti-corruption strategy. Plus, read about their partnership with the Accountability Lab to understand how best to effectively monitor and evaluate the change in social norms related to corruption.
Failing up
TAI was part of a Fail Fair this past week – always good to get the prod for self rection. So, it has us thinking, "Is there such a thing as a successful failure"? Hear from social change leaders as they chronicle their failures and lessons learned. Given our role, we've also been reading these funder collaboration lessons from the new Funders' Collaborative Hub. Many resonate.
Check out this easy-to-use comprehensive guide for evaluation and assessments of social justice, social change, and movement building as USAID reflects on the first two years of the Multi-Donor Learning Partnership for Development Impact and share future plans on the project.
Learn more about the USAID's Development Innovation Ventures (DIV) program, which has invested in global innovators who are testing new ideas to address the world's most intractable development challenges, building rigorous evidence, and scaling the most impactful, cost-effective solutions. Talking of intractable problems, do you have ideas for solving urban governance in Africa? Then you can submit to the Multi City Challenge run by UNDP and GovLab.
Using real-time International Aid Transparency Initiative reporting, Development Initiative analyzed how aid is changing during the pandemic as U.K. Foreign Secretary Dominic Raab announced what he termed a "necessary and temporary" cut to the U.K.'s foreign aid budget. The 0.7% of GDP commitment may be gone, but we are encouraged to see "open societies" remain part of Raab's vision for future U.K. aid. Meanwhile, Ranil Dissanayake lay out what budget areas need to be cut, starting by axing programs that have development and foreign policy objectives but achieve neither.
Love conquers all
Participants at a webinar organized by ONE and Accountability Lab delved into structural inequalities in the development sector as Jacob Harold writes on the striking disparity in trust between black and white led grantees in the U.S. and urged funders to be more accountable by addressing power dynamics in grantmaking and put general grantmaking principle into practice. You might want to pair with these essays highlighting how philanthropy can strengthen democracy.
Authors Shiree Teng and Sammy Nuñez de-colonize traditional ideas about what a paper should entail in Measuring Love in the Journey for Justice. Read how love is a central strategy for work in the social sector and why measuring love matters.
Finally, speaking from the perspective of an ex-funder and current nonprofit leader, former TAI Chair Ruth Levine gives tips on how nonprofits can fight for multiyear general support grants: keep to a clear mission that animates your work, measure and demonstrate organizational impact, and understand your organizational budget.
TPA Full Disclosure – People behind TPA: Cheri-Leigh Erasmus on Advocating for Greater Accountability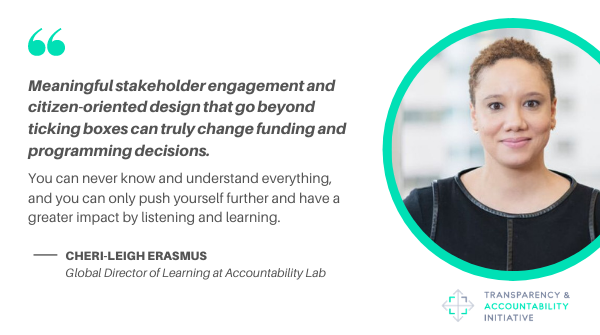 What lessons can those versed in other sectors bring into the transparency, civic participation, and accountability (TPA) field? Global Director of Learning at Accountability Lab, Cheri-Leigh Erasmus share insights and lessons from bridging across different development communities.
TAI Spotlight: TAI COVID MONITOR 3
TAI COVID Monitor 3 | Transparency and Accountability Initiative
This third, and final, issue of the COVID-19 Monitor is out with a focus on research and learning during a pandemic. We analyzed and explored the frequencies and types of questions posed and insights and recommendations formed around the TPA issues.
Reimagining tech and social justice in the global south | Ford Foundation
Learn more about the Foundation's partnership with Mozilla Foundation to deploy a cohort of Technology and Society Fellows. The fellows will be placed at Ford-funded organizations in Mexico, Brazil, Kenya, India, and in the Middle East and North Africa to build their technical capacity and deepen their understanding of technology to advance civic engagement.
The TPA strategy evaluation and landscape scan: narrowing our scope for data collection | Hewlett Foundation
The Hewlett Foundation transparency, participation and accountability team, and consultants OTT explain prioritized and updated evaluation and strategy refresh questions and structure. Helpful to see where there will be new insights developed (TAI will be seeking to leverage this work as much as possible)
Why the World Needs a People's Vaccine | Open Society Foundations
In a new Explainer, the Open Society Foundations says the true success in the fight against COVID-19 will not be won unless vaccinations are affordable and widely accessible to all.
Job Listing
Call/ Opportunities
Calendar